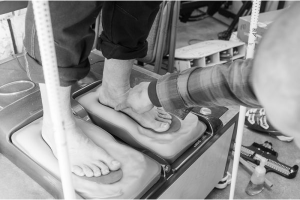 BOOT FITTING SERVICES ARE DONE FOR THE SEASON, SEE YOU IN OCTOBER!

Boot Fitting / Footbed Info - Scroll Down to Book Your Appointment
We take great pride in our boot fitting program and bring to you four Masterfit Certified boot fitters / custom insole builders.  We have a breadth of experience that can solve problems for even the most challenging fits.  From shell modification to custom insoles, we have what it takes to get you out on the hill pain free. 

Do Not Miss Your Appointment / Do Not Be Late

Bring Your Own Socks For Try Ons

Masks Are Required When In Store




Do Not Bring Extra People With You 

Appointments will be 45min to 1 hour

Each Fitting Session Includes A Full Foot Assessment By a MasterFit Trained Professional

$50 Assessment Fees may be credited towards a new pair of boots within 30 days.