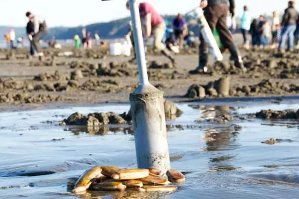 Mon 21 September 2020
Come learn to capture the elusive Pacific Razor Clam! Our guided dig will give you all the information you will need to be a successful razor clam digger. We provide all the equipment needed for the dig, but it is up to you to bring appropriate clothing and a current clamming license! (Licenses are sold in the shop for convenience.) All guided digs take place on the Mocrocks Beach right in front of Seabrook! 
We meet at the shop, verify information, gear up, walk down to the beach, dig, return to the shop, and learn to clean your catch, then you're cut loose! We rarely exceed two hours of total experience duration. Digs are subject to Washington Department of Fish and Wildlife regulations. 
Digs times and dates may be cancelled or changed at any time from WDFW.