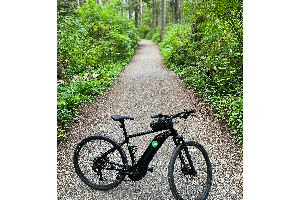 Join our 3-hour e-bike tour on Top Bridge Regional Trail across the "Top Bridge" and to the

Englishman River Trail where we will head towards the salmon habitat! Our expert guide will
lead you through stunning landscapes, explaining local flora and fauna. Enjoy e-bike
excitement and breathtaking views of forests, streams and rivers. Midway, relax with a
forest bath or river dip to cool off. Tours run Wednesdays and Saturdays at 1pm.
$95 including hybrid e-bike rental*, call, email, or book online
Participants must be 19 years or older and have experience riding a bike. Please bring a water bottle.
Below in step 2, please choose the tour seat(s) AND the bike(s) that you or your group would like.