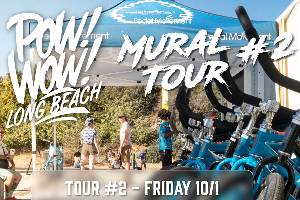 Fri 1 October 2021
Led by Artists Nat Iosbaker and Shak Smart, the tour will explore Long Beach the best way, on a bike! Learn about the artists, how POW! WOW! Long Beach has impacted the city, and more.

Ride departs from Pedal Movement Junipero Beach Rental Stand at 5:00pm. Please arrive early to ensure our team has ample time to fit you to your rental.
Rentals are due back by 8:00pm to qualify for promotional pricing.