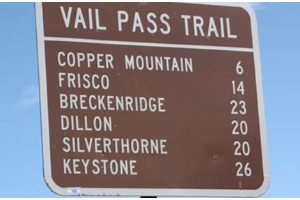 This incredibly scenic ride gently descends 1500 ft. over 14 miles. Starting near tree line on Vail Pass, your descent takes you through gladed forest and wildflower-laden alpine meadows as it parallels mountain streams, all on a paved bike path that returns you right back to our shop in Frisco. Copper Mountain resort is 1/2 way down with lots to do, including chairlift rides to lunch on the mountain, go-karts, paddle boats, and more, so bring the kids and grandparents and make a day of it! We purchase new bikes every year and feature comfort bikes, hybrids, and mountain bikes. Kids' equipment too! 21 speed suspension mountain bikes, tandem tag-a-longs, Burley trailers etc. We also have a full service bike shop on site and sell our used equipment at the end of every season for great prices.
If trying to book a Vail Pass Shuttle the same day please call 970.668.2759 to check for availability as we have walk-in bookings!
If you are signed up for the Vail Pass Shuttle please arrive at least 30 mins prior to your shuttle departure to get fitted for bikes, helmets, and for payment.